| Topic | Posted | Replies |
| --- | --- | --- |
| | 3hours ago | 10 Replies |
| | 4hours ago | 20 Replies |
| | 6hours ago | 1 Replies |
| | 23hours ago | 6 Replies |
| | 2days ago | 7 Replies |
| | 2days ago | 10 Replies |
| | 2days ago | 13 Replies |
| | 2days ago | 25 Replies |
| | 2days ago | 0 Replies |
| | 3days ago | 19 Replies |
| | 4days ago | 14 Replies |
| | 4days ago | 2 Replies |
| | 4days ago | 5 Replies |
| | 5days ago | 2 Replies |
| | 6days ago | 5 Replies |
Here are some upcoming events you should know about!
Please be sure to visit the forums regularly, to keep up with current events!
Do you see a missing event, a correction or want to make an announcement? Please PM me or comment on this thread and I will add it. Also, you may PM Kiralynn to add to the
forum calendar
and Floradine to add to the
lotroartists calendar
.
Do you have an idea for an event? Let us know!
Announcements:
+
LMBPlaylist 5.05
Latest release September 2nd, 2015.
+ September's Emote of the Month (EotM) is /beg. 100 /begs and you will receive the Harassed title!
+ Let's fill up our kin neighborhoods, in anticipation of an influx of new transfers. See the
housing For Sale thread
to find the neighborhood with your next dream home! Update the
Address book
with your new house number!
+ If you'd like to try your hand at vending - please consider attending Ales & Tales and/or Nibbles n' Nobs' to do so! We can send you refreshments and pies (shh, don't tell Byrcha we've been digging through her vault!) to pass around to hungry guests! Tinki outfit is optional and should be available in the kin house chest for wardrobing.
+
A slight change to the Current Events post this month: I'll be updating a single monthly post each month, instead of creating a new post each week. You can easily receive updates by subscribing to this thread- I will comment here with changes made.
=-=-=-=-=-=-=-=-=-=-=-=-=

All times are in /servertime | EDT

=-=-=-=-=-=-=-=-=-=-=-=-=-=-
Kin & Member Run Events Important Dates:
September 5th:
Attend Forte's Academy of Music and learn the ins and outs of the LOTRO music system. Meet at The Prancing Pony from 3:00 - 4:00 pm.
September 19th:
1st Annual
Pirate Palooza from 12:00-3:00pm
! Contact Fortissimmo to volunteer! Yar!
Treasure Scramble 12:00-1:00pm
Dress Like a Pirate Costume Contest 1:00-1:30pm
Treasure Scramble Award Ceremony 1:30-1:45pm
Old Winyard Pirate Concert 1:45-2:45pm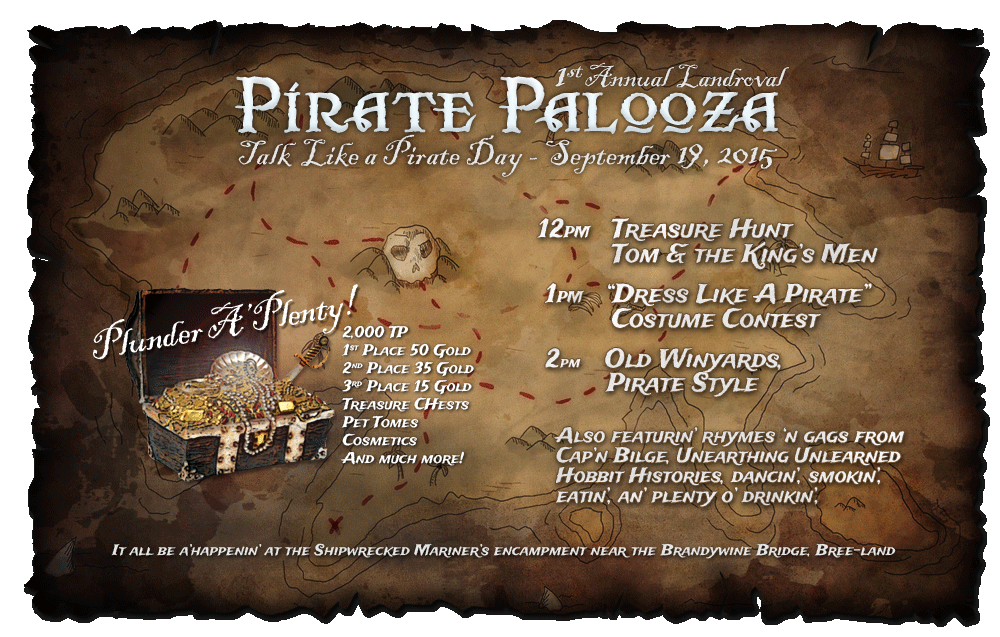 September 30th:
Last Day to enter
September's LMB Screenshot Competition
. This month's theme is "We are the champions!'
Planning for Fall Events:
Ongoing Weekly Events:
News of Interest:
+
August 31st - September 6th:
If you've characters on Laurelin, you may want to check out the
Harnkegger Games IV event
. With 30,000 in TP prizes and a full week of hobbit and dwarf games- it sounds like a grand time!
+
September 19th:
Market Day, hosted by Middle Earth Craft & Wares and Sons of Numenor, is held from 8:00-10:00 pm in the Market Square, Bree-town.
+
September 22nd:
Mark your calendars for Sons of Numenor
Symphony of Light VI
(Annual Bilbo Birthday Epic) beginning at 8:oo PM.
+ If you have events you would like to share with the Landroval community, Daffodilia has created a Happenings thread on the main LOTRO forums. You may submit info following the guidelines
here
.
About the Lonely Mountain Band
We know that in elder days before the fall, the world was fair and mountains tall. Melkor and his minions including the newly risen 'Witch-king of Angmar' have marred Arda and seek to break the will of free peoples and make them slaves. The Lonely Mountain Band will fight to the death, and answer any call in defence of the free peoples of Middle Earth.
MEMBER OF THE TOLKIEN SOCIETY
- Banner Art Elements by Ted Nasmith, used by permission only -