| Topic | Posted | Replies |
| --- | --- | --- |
| | 5days ago | 96 Replies |
| | 9days ago | 7 Replies |
| | 13days ago | 23 Replies |
| | 14days ago | 0 Replies |
| | 20days ago | 10 Replies |
| | 25days ago | 10 Replies |
| | 27days ago | 1 Replies |
| | 28days ago | 2 Replies |
| | 34days ago | 10 Replies |
| | 36days ago | 4 Replies |
| | 39days ago | 10 Replies |
| | 40days ago | 6 Replies |
| | 48days ago | 1 Replies |
| | 55days ago | 7 Replies |
| | 63days ago | 0 Replies |

-=-=-=-=-=-=-=-=-=-=-=-=-=

All times are in /servertime | EST

=-=-=-=-=-=-=-=-=-=-=-=-=-=-
Here are some regular and upcoming events you should know about!  Would you like to make an announcement or correction?  Please PM me or comment on this thread!  For a more complete list of Landroval events, see
LOTROartists.com
and our
Kin Calendar
.  If you have suggestions for events which LMBers might be interested in, please post to our forums or chat with an officer.
Announcements:


LMBPlaylist 5.30: Latest release January 2nd, 2018.

January Emotes of the Month (EotM) are /thank - for Title: the Helpful and /cheer - for the Emote: /firebreath.

Drunken Elves Music Testing: If you have songs to be tested, please post on the thread. Session are planned on an "as needed" basis.
Special concert by The Andune Ensemble:
To celebrate 6 years of weekly concerts, The Andune Ensemble present a special 2 hour concert Bad Boys Of Middle-earth on January 21st at 3:00 pm. Featuring lyrics by Lady Hollyberye this is not to be missed!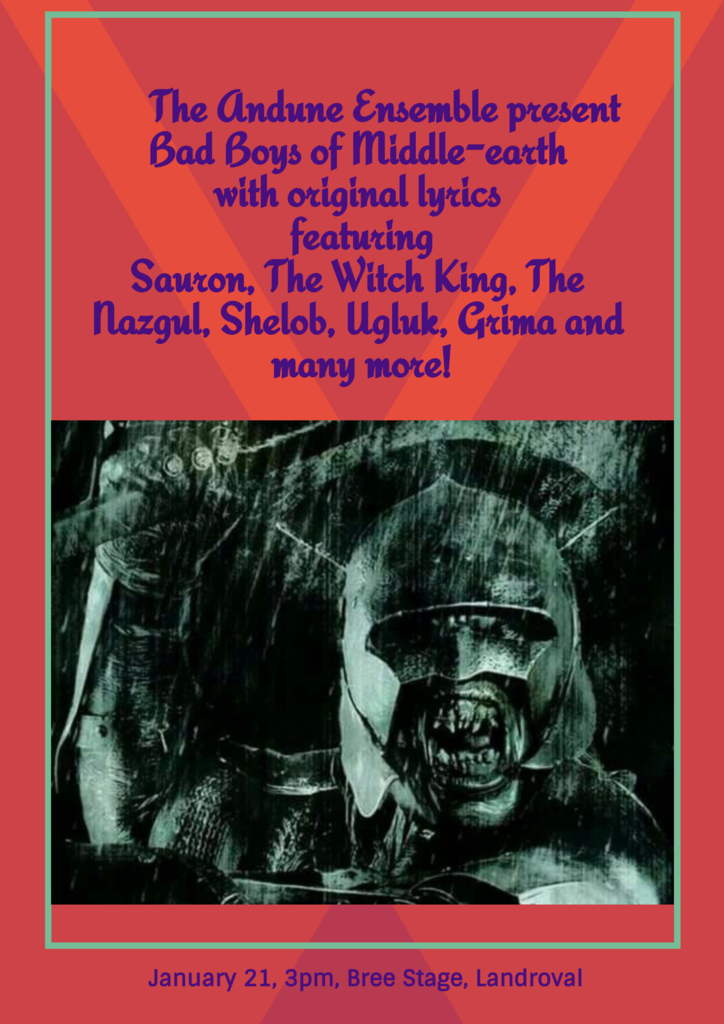 Ongoing Kin Events:



Saturday

: Saturday Shenanigans (every other Saturday) at 3:00 PM  ||  Bards, Beers, and LongBeards Practice at 11:00 PM and show at Midnight by the Prancing Pony Rock


Sunday

: The Andune Ensemble at 3:00 PM on the Bree-town stage  || Sunday Night Sieges at 4:30 PM (All kin members are invited to start up a group and have some fun!)


Monday

: Ales & Tales Open-stage from 8:30-9:30 PM and Main show from 9:30-11:15(ish) PM
Of Interest:



Every Tuesday:

An Open Course on the Lord of the Rings, hosted in LOTRO! Join Corey Olsen, known online as The Tolkien Professor, each Tuesday evening, for chapter-by-chapter detailed discussions of the Lord of the Rings. In each session, he will spend 60-90 minutes discussing the book chapter and its themes, reading passages and doing some close reading to really get into the story as it unfolds. Each discussion will be followed by an in-game "field trip", where Dr. Olsen will discuss how Standing Stone has adapted Tolkien's work.


Check out Hollyberye's YouTube channel and Zedrockk's BaraZine to watch moving pictures of past events and performances!

Every Friday afternoon from Noon to 1:00pm: Join LOTRO Community Manager +Cordovan on the official LOTRO Twitch Channel.

Check out the weekly LOTRO Beacon Newsletter. Make sure to comment on the post with an answer to the weekly question for a chance to win 500 LP points!

Knights of the White Lady kin 2018 Street of Dreams Tour will take place at 3:00 P.M. /servertime on January 7th. Also, if you are unable to attend the live event, the Itinerary for self-guided tours has been posted!


March 3rd:

Day on the Greenfields Invitational Music Festival has been scheduled for March 3rd starting at noon in the Greenfields outside of Brockenborings in the Shire! More information will be announced soon!
-=-=-=-=-=-=-=-=-=-=-=-=-= All times are in /servertime | EST =-=-=-=-=-=-=-=-=-=-=-=-=-=-
* Note: This post gets updated as needed and can be viewed on the homepage. *
About the Lonely Mountain Band
www.TolkienSociety.org News